Winfo Solutions Recruitment 2021 Hiring Freshers As Trainee of Package 2.4 LPA
Winfo Solutions Recruitment 2021: Winfo is a fast-growing IT solutions organisation with a highly motivated leadership team, spread across the U.K., U.S.A. & India, focused on bringing businesses into the next generation. Winfo provides solutions for seamless business transformation, leveraging leading technologies in ERP, IoT, Analytics and RPA. Encouraging new thoughts and expertise to come aboard.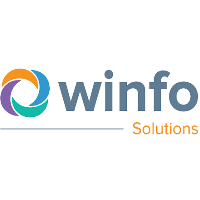 Company Name: Winfo Solutions
Website: Winfo
Job Role: Software Engineer
Degree Needed: B.E/B.Tech/M.E/M.Tech/MCA
Passout Year: 2019/2020
Location: Hyderabad
Salary: 2.4 LPA
Jobs By Location And Passout Year:
Required Skills:
Good programming skills in any language (C/Java/PLSQL etc.), trained candidates will be preferred.
Have an ability to plan, organize and Structure work
Showcase good analytical and evaluation skills in the tasks
Excellent problem-solving skills and solution-oriented attitude
Must be able to work in a team and as an individual
Should be capable to handle multiple tasks
Excellent communication skills both verbal and written
Presentation Skills & Self-Driven
Have good interpersonal skills
Once your resume is shortlisted then will get back to you.
Apply Link: Click here
CyberTecz Jobs is Available on Play Store, Download Now & Get an Inside Look into Latest Campus Recruitment: Click here
Winfo Solutions Interview Questions for Technical Round: Click here
HR Interview Questions of Winfo Solutions: Click here
How To Write Resume For Getting Shortlisted In Winfo Solutions: Click here
Winfo Solutions Mock Test with Aptitude and Coding Assessment: Click here
Join Telegram Group of Daily Jobs Updates for 2010-2023 Batch: Click Here
If You Want To Get More Daily Such Jobs Updates, Career Advice Then Join the Telegram Group From Above Link Also Press Red Bell Icon At The Left Side of Page To Subscribe our Updates.
Infosys Recruitment 2021 For Freshers has been Started Across India: Click here
Accenture Hiring Freshers of Package 4.5 LPA Across India: Click here
Why You're Not Getting Response From Recruiter?: Click here
Top 5 High Salary Jobs in India IT Sector 2021: Click here
Whats is the Difference Between CV and Resume?: Click here
How To Get a Job Easily: Professional Advice For Job Seekers: Click here
A Leadership Guide For How To Win Hearts and Minds: Click here
How To Improve Communication Skills with 12 Strategy: Click here
Career Tips for Freshers: Top 7 Hacks To Land Your Target Job: Click here
Which Graphics Processor is Best for Gaming 2021?: Click here
Feel Like Demotivated? Check Out our Motivation For You: Click here
Top 5 Best Mobile Tracking App in 2021 For Mobile & PC: Click here
5 Proven Tips For How To Look Beautiful and Attractive: Click here
Home Workouts During The Lockdown For Fitness Freaks: Click here
What is Big Data Analytics? Does it Require Coding?: Click here