TCS NextStep Registration 2021 Hiring Freshers of Any Degree Graduate Across India
TCS NextStep Registration 2021: TCS is an Indian multinational information technology (IT) services, business solutions and consulting company headquartered in Mumbai, Maharashtra. TCS operates in 44 countries and has 199 branches across the world. It is a subsidiary of the Tata Group and is listed on the Bombay Stock Exchange and the National Stock Exchange of India. Its main function is to provide IT services.The detailed about TCS Career Recruitment eligibility and application process are mentioned below
Company Name: Tata Consultancy Services
Company Website: TCS
Wikipedia: TCS Wiki
Position: Trainee/Fresher's/GET
Degree Needed: B.E/B.Tech/B.Sc/BCA/M.Sc/MCA/M.E/M.Tech
Passout Batch: 2018/2019/2020/2021
Experience: 0 – 3 Years
Job Location: Across India
Salary: Best In Industry
Jobs By Location And Passout Year:
Eligibility of TCS NextStep:
According to academic degree, Candidate can register for two types of industries in TCS NextStep Portal. There are two sections of TCS Registration available in TCS NextStep Portal.
IT-Information Technology for Engineering/MCA/Arts/Science & Diploma graduates
BPS- Business Process Service for MBA graduates
TCS NextStep Registration for IT-Information Technology:
Eligibility Criteria for IT-Information Technology in TCS Portal:
Qualification/Education: BE / B.Tech / ME / M.Tech (OR) MCA with BCA/B.Com/BA/B.Sc (with Math/Statistics Background) (OR) M.Sc in Computer Science / Information Technology
Job Role/Profile/Position: Associate System Engineer
Percentage: 60 % and above in Class X,XII,UG & PG
Backlogs: No Pending Backlog
Break/Gap allowed: up to 24 months for the valid reason only
Job Location: PAN India
Eligible Engineering Branches for TCS NextStep Registration:
Computer Science
Information Technology
Electronics and Electrical Engineering
Mechanical Engineering
Electronics/Electrical and Instrumentation Engineering
Electrical Engineering
Electronics and Communication
Electronics and Telecommunication
Instrumentation Engineering
Network Engineering
TCS NextStep Registration for BPS-Business Process Services:
Specialisation: Operation, Finance, Marketing, IT & Systems, HR
Qualification/Education: Full Time MBA
Job Role: Management Trainee
Academic Criteria/Required Percentage: 60% throughput (10th to Degree)
Education Gap: Up to 2 year allowed
Job location: Across India
How to Apply/Register for TSC NextStep Portal?
Step 1: Visit https://nextstep.tcs.com/campus/#/ and Click on the given "Registration Now" (Use Desktop or Next Step TCS Android App)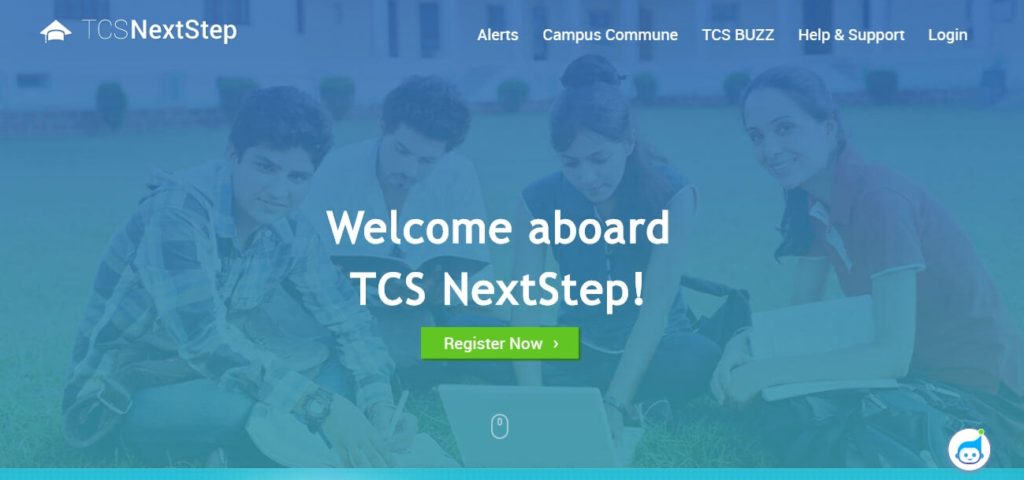 Step 2: Candidate need to choose Industry IT or BPS (Kindly, Read all official details given on TCS NextStep Portal) Important Note: You have a choice to apply for IT or BPS. Please note that you can register with us under only one category and registering in incorrect category may lead you to repeat the entire registration process.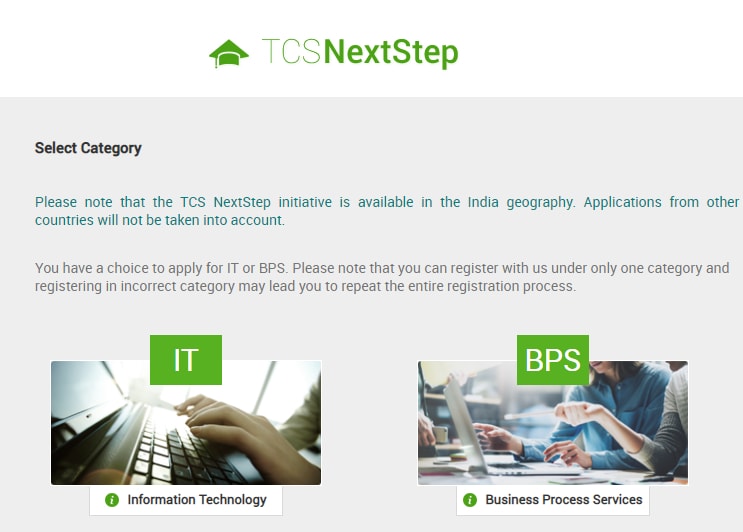 Step 3: Candidate need to enter primary details like college name, degree, Email Id/Mobile number, and etc. After submitting your CT/DT Reference ID and password sent to your Email-ID.
Step 4: Click on continue and provide your password and log-in.
Step 5: On the left side of TCS NextStep Web-Portal, You will see a menu bar that contains Application Form, Campus Commune, Track My Application, and How to Apply. Click on "Application Form" and Submit Personal details, Academic and Experience details (In this step you need to upload your recent passport size photo and resume)
Step 6: After Submitting the Application form Download the system generated application form.
If you confused in any one of the steps, kindly check step by step TCS NextStep registration procedure: Click Here
How to track TCS Application in TCS NextStep web-portal?
Candidate can check application status by just clicking on "Track My Application".
TCS on Campus: For TCS on-campus selection process, Candidate needs to carry the print out of application form. Candidate should meet the all eligibility criteria of TCS Selection process.
TCS Off-Campus: For TCS Off-Campus, the Candidate will get the notification in email-id registered with TCS NextStep Portal. If you get the notification, log in to TCS Portal and choose your online test location. For Off-Campus Drive of TCS, the Candidate needs to carry an application form and Resume on the selection date.
TCS NextStep Mobile App: Candidate can use this app for submitting the online application, Track application status, TCS Campus Commune, and etc.
If You have any question or queries regarding Registration of TCS NextStep Portal: https://nextstep.tcs.com/campus/#/helpAndSupport
Technical Interview Questions of TCS: Click here
HR Interview Questions of TCS: Click here
How To Write Resume For Getting Shortlisted In TCS: Click here
If You Want To Get More Daily Such Jobs Updates Then Press Red Bell Icon At The Right Side of Page To Subscribe our Updates.
Join Telegram Group of Daily Jobs Updates for 2010-2021 Batch: Click Here
TCS NQT 2020 Programming Coding Questions With Answers: Click here
Why You're Not Getting Response From Recruiter?: Click here
Top 5 High Salary Jobs in India IT Sector 2020: Click here
How To Get a Job Easily: Professional Advice For Job Seekers: Click here
Cognizant Latest News: Up To 20K+ Employees Will Be Hired: Click here
Jio vs Airtel vs Vodafone- Idea 2 Gb Per Day Data Plan Comparison: Click here
Lenovo Legion Three Gaming Laptops Launched In India: Click here
Reliance Jio launched Jio Browser With Encrypted Connection: Click here
COVID-19 Live Tracker India & Coronavirus Live Update: Click here
Career Tips for Freshers: Top 7 Hacks To Land Your Target Job: Click here
Will PUBG Came Back To India? If Yes Then Why?: Click here
Feel Like Demotivated? Check Out our Motivation For You: Click here
List of Best Sites To Watch Free Movies Online in 2020: Click here
5 Proven Tips For How To Look Beautiful and Attractive: Click here
Home Workouts During The Lockdown For Fitness Freaks: Click here
Google Certification 100,000 Courses For Online Certificates: Click here