Mega Virtual Job Fair 2020 of 80+ Participating MNC Companies For 864 Open Positions
Mega Virtual Job Fair: More than 80 companies and 30k+ candidates from across India, are participating in this Mega virtual event. Its the New normal of recruitment with the goal of setting our economy back on its feet. Towards Atmanirbhar Bharat.
Job Role: Multiple Positions
Qualification: B.E/B.Tech/B.Sc/BCA/B.Com/M.E/M.Tech/M.Sc/MCA/B.Com
Passout Year: 2015/2016/2017/2018/2019/2020/2021
Location: Across India
No. of Openings: 864
Package: Best In Industry
Experience Level: 0 – 5 Years
Jobs By Location And Passout Year: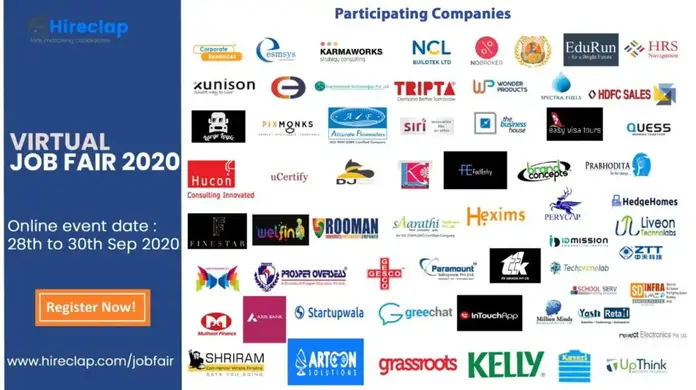 Online event date: 28th Sep to 30th Sep 2020
It's an advanced and complete virtual hiring process wherein Companies will pre screen candidates online.
The virtual job fair is absolutely free for candidates.
Candidates can register below to participate in this virtual event.
Apply Link: Click Here
Technical Interview Questions for Mega Job Fair: Click here
HR Interview Questions of Mega Job Fair: Click here
How To Write Resume For Getting Shortlisted In Mega Job Fair: Click here
If You Want To Get More Daily Such Jobs Updates, Career Advice Then Join the Telegram Group From Given Link And Never Miss Update.
Join Telegram Group of Daily Jobs Updates for 2010-2021 Batch: Click Here
Why You're Not Getting Response From Recruiter?: Click here
Top 5 High Salary Jobs in India IT Sector 2020: Click here
How To Get a Job Easily: Professional Advice For Job Seekers: Click here
Cognizant Latest News: Up To 20K+ Employees Will Be Hired: Click here
Jio vs Airtel vs Vodafone- Idea 2 Gb Per Day Data Plan Comparison: Click here
Lenovo Legion Three Gaming Laptops Launched In India: Click here
COVID-19 Live Tracker India & Coronavirus Live Update: Click here
Career Tips for Freshers: Top 7 Hacks To Land Your Target Job: Click here
Feel Like Demotivated? Check Out our Motivation For You: Click here
List of Best Sites To Watch Free Movies Online in 2020: Click here
5 Proven Tips For How To Look Beautiful and Attractive: Click here
Home Workouts During The Lockdown For Fitness Freaks: Click here
Google Certification 100,000 Courses For Online Certificates: Click here